myClub
myClub is an online mode that gives you the platform to build an original team with which you will take on all comers both human and COM.
WHAT IS myClub
Build your very own team by bringing in the right managers and players. Build your Squad (a team that takes part in matches) by bringing in the right managers and players. Take on all opponents, both human and COM, and train your players to make your Squad stronger.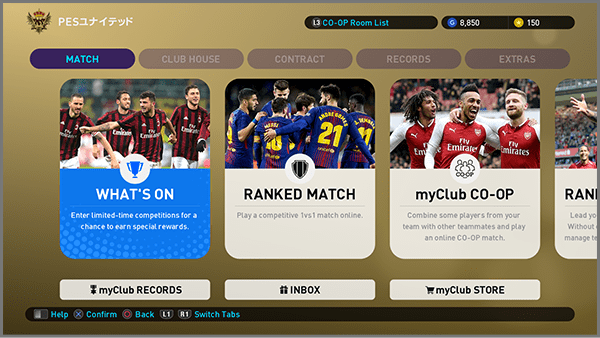 NEW FEATURES IN myClub
Various new features have been added to myClub. Enjoy building up your ideal team and taking part in matches with our upgraded system!
FEATURED PLAYERS
"Featured Players" is a new addition to myClub. The players are selected on a weekly basis from among those who performed exceptionally in matches held over the weekend. A number of featured players from PES partner clubs will also be obtainable. To reflect their outstanding matchplay, these players are added to myClub with stats set higher than the regular versions of themselves.
You can keep both the regular and featured versions of the same player, but you cannot include them both in the same squad.
TRADE
You can now sign one player from your List of Targets in exchange for three of the same player of the same rarity. Once the trade is executed, the new signing will be Lv.1.
Different variations of the same players cannot be included in the trade.
New Trainers
We've added two new types of trainers to the game.
| | |
| --- | --- |
| Skill Trainer | This trainer can grant one random skill to a player who has a free skill slot (9 or fewer). Train the same player again and the skill will be overwritten. The skill granted is determined by the player's position. |
| Position Trainer | This trainer can improve a player's suitability for a certain position, particularly when their suitability is low (indicated by a weak color). For players who are not well suited to multiple positions, you can have the player work with this trainer until no low-suitability positions remain (which positions are improved is chosen at random.). |
RANKED MATCH
In place of previous modes Divisions and Divisions (SIM), we've added 1-vs-1 "Ranked Matches" and "Ranked Matches (SIM)" in PES 2019, the latter of which is played in Manager mode.
Acclaim
This newly added rating system is an indication of a user's ability in online competitive matches. Your initial Acclaim is determined by your rating after your rookie period (your first 10 competitive matches) ends. Thereafter, your Acclaim goes up every time your rating reaches a certain level.
WEEKLY PES LEAGUE
New to PES 2019, every week users of similar skill level are matched up against each other in ranked Weekly PES League matches. You'll earn Weekly Points after each match and compete for ranking based on your total points. The Weekly PES League rankings are reset every week, but your overall ranking will decide which division you play in.
Also, your final group ranking will determine how much GP you earn, and you can only enter the Weekly PES League after you have completed your rookie period.
Playing ranked matches improves your Acclaim and earns you a spot in the Weekly PES League.
The number of people in each Division will change weekly following maintenance.
HOW myClub WORKS

1

Player and Manager Contracts

The first thing you should do is sign a manager and some players. You can sign players using a Scout or Agent!
2

Squad Management and Player Development

Build your squad while taking into consideration player cost and suitability to your tactics. The strategies available to you depend on your manager. And don't forget to keep developing your players!
3

MATCH

Play against other users or the COM! Playing matches develops your players, and earns you rewards such as Scouts and GP, both of which are invaluable when it comes to strengthening your squad.
Convert into a Trainer and Train Players
You can convert a player in your team into a trainer. You can train your player by using a trainer in the "Training" menu in myClub. Training raises a player's level. As a player's level increases, his ability will improve and your squad is strengthened.
Please note that the trainer will leave the club once training is complete.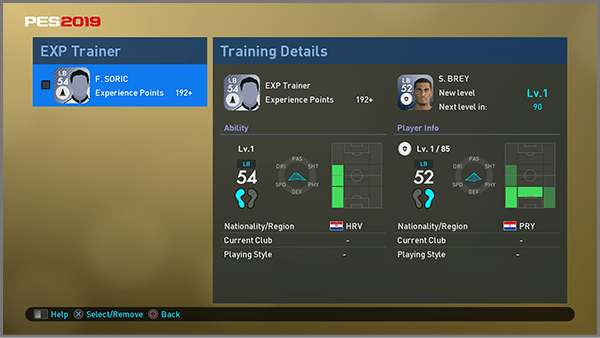 CONTRACT DURATION
The number of matches both players and managers can take part in are dictated by the terms of their contracts. Once the contract expires, the player / manager can no longer take part in matches.
Players will remain on the club's books even if their contracts expire, but they will be unable to participate in matches.
Players on loan will leave once their loan period is complete.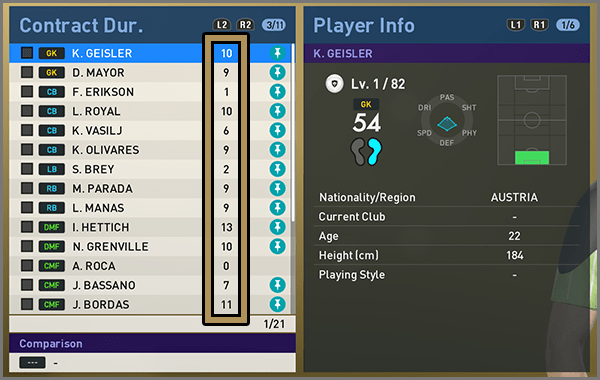 PLAYER FATIGUE
Players become fatigued by playing in matches. You can help them recover by resting them in the following matches or use items for instant recovery.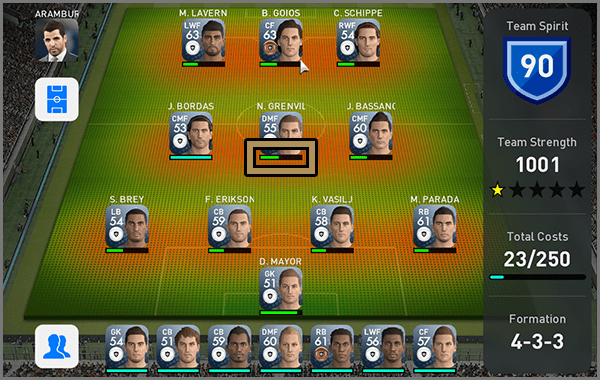 TEAM SPIRIT
"Team Spirit" is an indication of how good relations are in the Squad. Team Spirit increases as you select players who have an affinity for the manager's Team Instructions. A high team spirit naturally leads to better teamwork.
Managers have a set "Management Skill" level while players are categorised by "Cost". If total costs exceed a manager's Management Skills, Team Spirit will drop drastically.
myClub Coins AND GP
"myClub Coins" and "GP" are a form of in-game currency. They are needed when signing agents, hiring managers, signing players on loan, renewing the contracts of managers and players, and to help players recover from fatigue.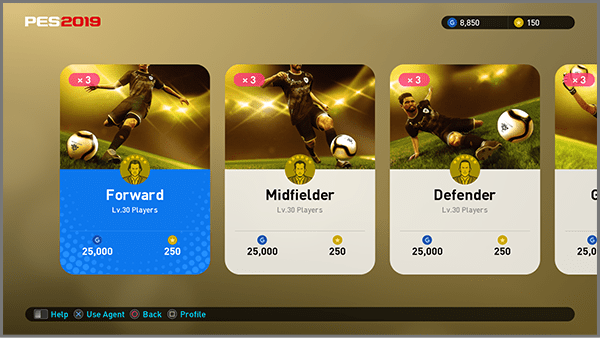 | | |
| --- | --- |
| myClub Coins | In-game currency bought with real world money. Please go to the menu and select "Buy myClub Coins" from "myClub Store" to purchase. |
| GP | A form of in-game currency which can be earned mainly as match rewards. It can also be earned by unlocking a range of achievements in the game (not necessarily just myClub). |
Scout Auction
You can make a bid on Scouts sold in Auction. If you find any of your favourite Scouts in the [Auction List], make a bid with your GP. Remember the bidding window is limited and if more than two users make bids for the same Scout, the Final Round starts and the user with the highest bid wins. When you have reduced the field of available players to a single candidate, you are guaranteed to be able to add them to your squad.