TOP MENU
Select the mode or competition you want to play.
TOP MENU SCREEN
Switch the top menu by pushing

,

and Directional Buttons to select the mode you want to play from the panels. In the Player Info box, you can confirm your current GP and myClub Coins when logging onto the server. Pushing

allows you to jump to the CO-OP Room of the users you follow in "Online CO-OP" mode.
For more details on myClub Coins, refer to "myClub".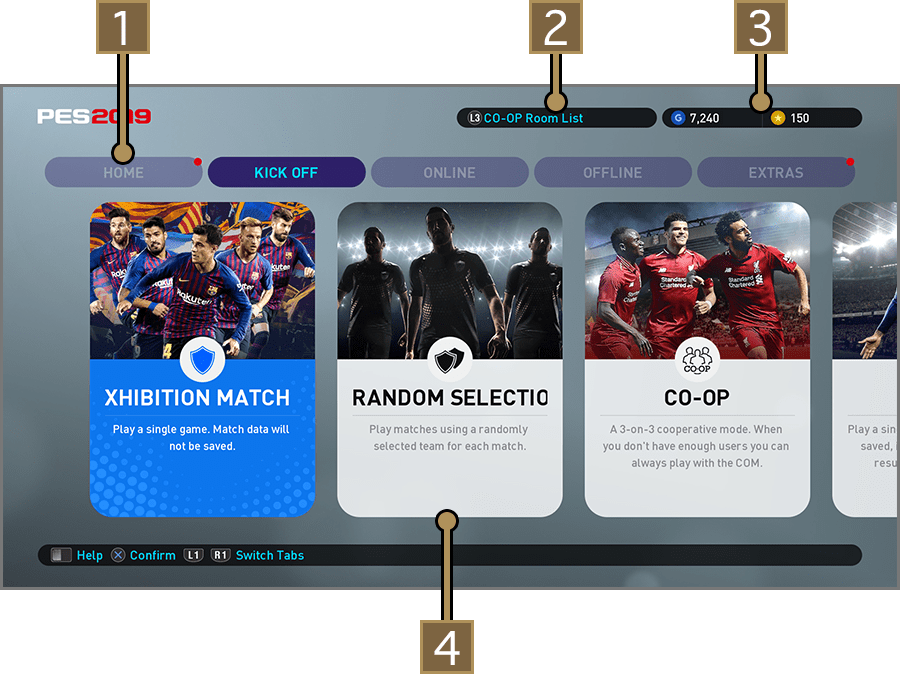 1

TOP MENU
2

CO-OP Room List
3

PLAYER INFO
4

TITLE MENU
WHAT IS GP?

GP is a form of in-game currency that is used in myClub.
HOME
When you launch the game, you will start at the Top Menu. Here you will see a tile menu from which you can select modes related to the game's various online events.
KICK OFF
The Kick Off menu offers access to several different match types, as well as an area to practice and learn new skills. Logging in to the server will allow you to play against other users online.
| | |
| --- | --- |
| EXHIBITION MATCH | Play a casual match. Match results will not be recorded. |
| RANDOM SELECTION MATCH | Play a competitive match using a team made up of randomly selected players. Simply choose a team, then narrow down your player selection range by league and region/country. Players will then be chosen at random using your criteria. Once the player pool is chosen, you and your opponent take turns selecting players. |
| CO-OP | Play a CO-OP match with three users. Don't worry about not having enough users, though. The COM will fill in to make up numbers. |
| VERSUS | Play a single match against another user. Match results and other stats are recorded. |
| TRAINING | Choose from either Skills Training, where you'll learn specific techniques to help you in matches, or Free Training, where you'll be free to practice various scenarios. |
ONLINE
Go online to play myClub and enjoy various other online modes.
myClub
Make your very own original team, work to improve it, then face off against other users around the world.
→ Learn more about myClub
WHAT'S ON
Enter online competitions that feature a variety of tournament styles, including 1-vs-1, CO-OP, and Random Selection Matches.
ONLINE DIVISIONS
Your goal is to compete against other users online to reach the top of the division throughout the course of a season. Each season consists of 10 matches, and you'll go up, down, or stay in the division depending on your points at the end of the season.

ONLINE CO-OP
Build a squad together with one or two fellow users, and enter cooperative matchplay. Each of your moves in a match is rated, and you can see all your ratings and stats post-match.
QUICK MATCH
Be automatically matched with an opponent, then play a competitive 1-vs-1 match. The results don't count towards online rankings, so don't sweat your play or results.
FRIENDLY MATCH LOBBY
Set your own match rules and play a match against other users in the lobby.
TEAM PLAY LOBBY
Use an imported player or one you've nurtured in Become a Legend to play in an online match featuring up to 22 other users.
Important Note about WHAT'S ON

When joining a WHAT'S ON event, please be aware of the following.

The details about externally managed competition events can be viewed at any time from within the WHAT'S ON information section.

To register your membership to a ranking website, please do so from the respective site.
For detailed information on your registration, please contact the administrator of the relevant ranking site.
Results and rankings related to online matches of a WHAT'S ON event will be updated on the ranking site.
Unlike other regular online modes, some teams may be unavailable for use in these events.
Cooperative play with other online users or your friends in "Online CO-OP".

In ONLINE CO-OP, you can play online competitive matches in either the 2-vs-2 or 3-vs-3 formats. When there are no cooperative users available to play with, the COM will fill in to make up numbers.

Three controllers allow you to play cooperative online matches with three users on one device.

| | |
| --- | --- |
| Casual Match | Find an online user to play with and play a casual cooperative match. |
| Clan Match | Create a match lobby and play with other clan members. Clan stats are recorded and count towards the clan's ranking. |
| CO-OP Records | View individual users' stats and your clan's ranking. |
| CO-OP Settings | Create or join a clan and adjust settings for online CO-OP play. |
PLAY A MATCH WITH THE LATEST SQUADS BY LIVE UPDATE

Provided that you are able to connect to the Internet, the Live Update Feature will allow you to enjoy online matches, Master league, and all other modes using an up-to-date player list. Follow the instructions in "Apply Live Update" to enable this feature.
OFFLINE
In offline mode, you can become a manager of a team and compete in a league, experience the life of a pro footballer, and play league and cup matches configured to your liking.
MASTER LEAGUE

In Master League, you take control of players' development and training as you manage your dream squad. We've also added the following new features to Master League.

[International Champions Cup]

Before the new season kicks off, you'll get a chance to play in the International Champions Cup, where the top teams from each country play in a league featuring four teams. The competition will be played in Asia, North America, and South America. In your first year, you'll be guaranteed a place, and the competition will feature South American and 2nd division teams.

Growth

Players that have a specific playing style are now able to take part in "Balanced" training, which allows them to change from their current playing style. We've also added a feature whereby you can assign points to each category of Focused Training to better help you to train players to your specifications. Additionally, we made innovations to the balance of players undergoing rapid growth, and now young players can enter the rapid growth stage when they play in matches.



Negotiations

We have made it simpler to manage your money by allowing you to select whether the game's various bonuses are paid out of the Salary Budget or the Transfer Budget. Additionally, when negotiating transfers or contract extensions, you can now specify conditions from the outset.

Team Role

Every player's personality is defined by four trait pairs, each of which is a pair of opposing characteristics. Players fall on one side or the other of each trait pair depending on their individual tendencies. These trait pairs are: Team Play ⇔ Lone Wolf, Passion ⇔ Composure, Technique ⇔ Physical and Instinct ⇔ Insight. Each player's unique combination of traits is used to determine their team role. Furthermore, we've increased the importance of Team Impact, which is improved through match appearances and development, which gives players the ability to gain even greater team roles.

BECOME A LEGEND
Live the life of a pro player and experience a career in football.
LEAGUE
Take charge of a club of your choice and guide them through a gruelling season to victory.
CUP
Take your team on a glorious run in a major cup competition.
EXTRAS
Adjust various settings, such as System Settings and Options.
EDIT

Edit teams, players, stadiums, and so on.

You will need to import an image to use it as image data. To do so, create a folder on a USB storage device, name it "WEPES", and then save the image data to the folder. For more information on how to import the data, please see the instructions found in Edit Menu > "Import/Export".
Only images that meet the following criteria can be imported.
Resolution: 64×64 to 2048×2048 pixels. Format: JPEG or PNG.

STATISTICS
Scan through any important online information.
REPLAY GALLERY
Have a look at any replay footage you recorded in your previous matches.
OPTIONS
Configure various settings.
APPLY LIVE UPDATE

Use a Live Update to apply club roster updates to Edit Data.

Once you apply a Live Update, you can update the game to reflect any player transfers. Caution: After overwriting previous data with new transfers, all club information saved to Edit Data will be reset.

LEGAL Menu
View the Terms of Use regarding the administration service of the game's various content.
ONLINE SETTINGS
Configure your online settings.
SYSTEM SETTINGS
Choose game speed, audio and language settings.
Import/Export Edit Data

In the PlayStation®4 version, you can import/export edited teams and competition settings. You can share your edited data with friends or import other PES users' data as a batch download and use it in your game. For more information on how to do this, follow the instructions in "Import/Export" found in the Edit Menu.