GAME PLAN SETTINGS
Select "Game Plan" before a match, at halftime, or from the Pause Menu to change formations, make roster changes, adjust your strategy, and more.
GAME PLAN SCREEN
Simple Tactical Settings in the Simple Settings Menu helps you to automatically set your team's Formation, Team Instructions and Starting Lineups based only on your preferred key words. The Simple Settings Menu is available from Support Settings in Game Plan.
You can view a player's abilities in graph form by selecting a player from the "Team Sheet / Edit Position" option. Additionally, you can press to make the player captain. Press to automatically choose your starting eleven based on player ability.
Side Leader means the controller which can edit the Game Plan. The controller with the lowest number on each side will be the side leader. (The other controller can be the leader only when entering the pause menu and Game Plan during a match.) .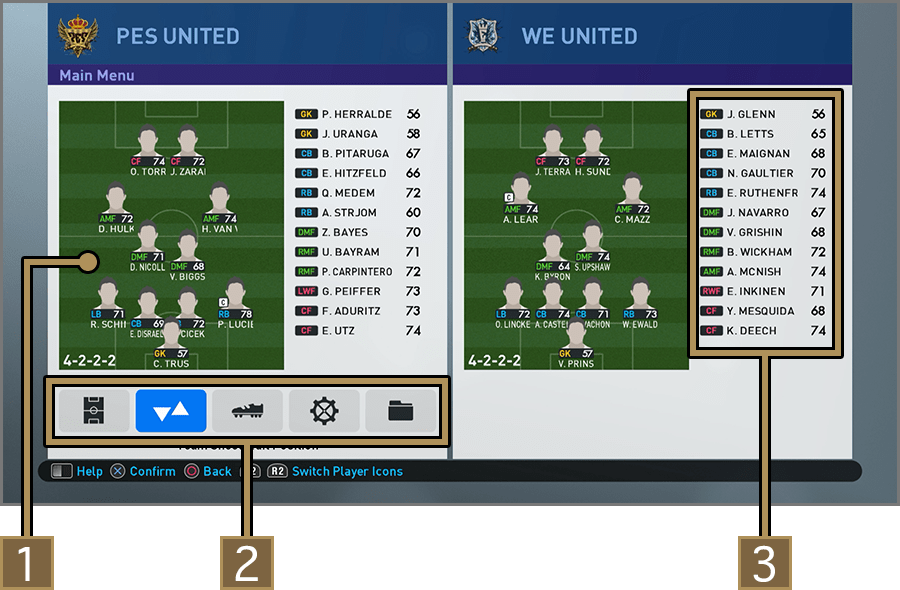 1

Pitch
2

Game Plan Menu
3

Substitutes
PITCH DISPLAY
Press

or

on the Game Plan screen to switch between the following 2 displays.
The icons shown in the Strip Icon / Form & Stamina Screens refer to the following:
:Yellow Card
:Red Card
:Injury
:Unavailable
FORM/STAMINA

Player form is indicated by arrows and player stamina is indicated by gauge.

...Top Form
...Good Form
...Normal Form
...Poor Form
...Terrible Form

In Master League and Become A Legends, is sometimes displayed. If the player with this icon is given more playing time, he could make a real breakthrough.
In Master League, the blinking condition icon shows a player whose condition is affected by Team Role effect.

POSITION & OVERALL RATING

Shows Player Roles and their suitability to particular players. The Overall Ratings of the Substitutes are calculated assuming that they are played in their default positions.
In Master League, Team Spirit is also displayed as well as in myClub, Team Spirit and players' Level are displayed. Team Spirit is shown in the player icons and level is on the other page.
PRESET TACTICS
The [Preset Tactics] option allows you to choose team formations, mark settings as well as "Team Instructions" (The way the team plays when attacking and defending). Choose which areas of the pitch to build up play in attack, or to contain the opposition when in defence.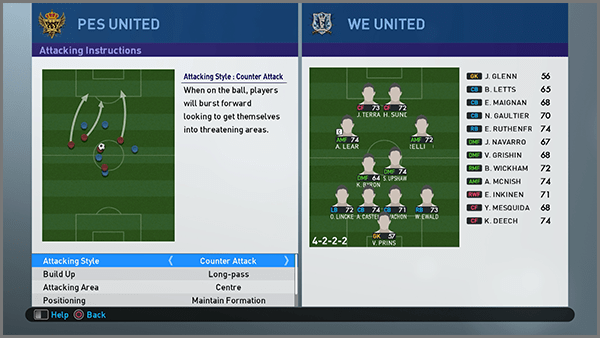 Use 3 Preset Tactics
When "Switch Preset Tactics" is turned on in "Support Settings" in the Game Plan menu, you can set and select 3 Preset Tactics (Main (Offensive), Defensive and Custom) to suit the match situation.
Take Full Advantage of Fluid Formations
By turning on "Fluid Formation" in Preset Tactics in the Game Plan menu, you will get to choose your formation at i) Time of Kick off, ii) When in possession, iii) When out of possession.
You can set the formation and activation of fluid formations for each of your preset tactics.

is displayed if a team has fluid formations by default.
Fluid Formation
Kick-off

When in Possession

When out of Possession
When "Switch Preset Tactics" is turned on, you can set 3 Preset TacticsMain (Offensive),DefensiveandCustomand switch them by holding the UP or DOWN Buttons during matches.

When "Fluid Formation" is ON, your formation automatically switches betweenKick-off,When in PossessionandWhen out of Possessionduring matches.
Set Advanced Instructions
By setting Advanced Instructions in Preset Tactics in Game Plan, you can make dramatic switches in your team's attacking and defensive play. You can set up to two attacking and two defensive tactics and turn them ON/OFF by pushing

+ Directional Buttons.
The tactics are ON at kick off when any Advanced Instructions are set.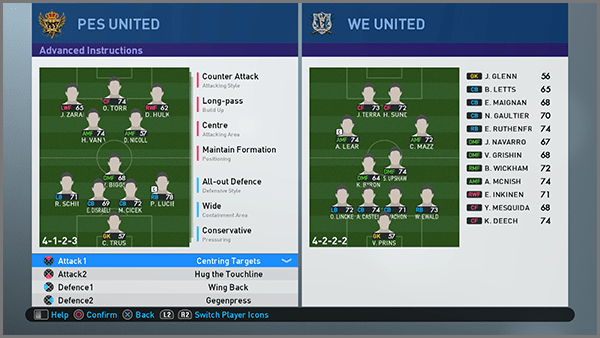 For certain teams, we've already implemented Advanced Instructions that match their style of play, and these are triggered automatically in-game. Try turning them ON and OFF either from Game Plan or using in-match controls to see how they impact the squad's play.
Team Sheet/Edit Position
The "Team Sheet/Edit Position" option in the Game Plan Menu allows you to adjust your first team, including making substitutions and changing players' positions on the field.